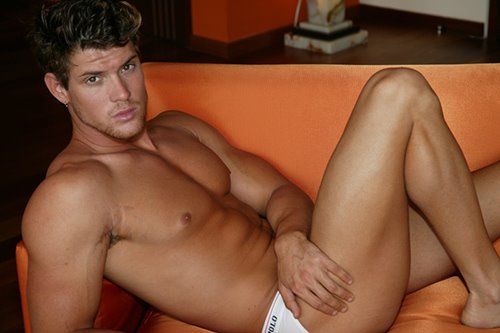 We would agree with that sentiment.
However, this website does not feature NSFW images; If you want to see the aforementioned cock, you'll have to go here.
Leighton Stultz is a 30-year-old former model. He is originally from Savannah, GA, but currently lives in Baltimore, MD. His claim to fame was through reality show "Seducing Cindy" where he competed to win the love of Cindy Margolis, the world's most downloaded woman. However most know him as a former – and heavily downloaded – Playgirl centerfold.
Thomas Watson, a New York-based photographer, worked on six photo shoots with Leighton over the course of a year, including the Playgirl shoot which he is most famous for.
Said Thomas Watson:
"IT WAS HARD TO BELIEVE THAT LEIGHTON STULZ WAS COMING UP TO NEW ENGLAND FOR HIS SIXTH PHOTO SHOOT WITH ME. BUT THERE HE WAS – HANDSOME AS EVER – AT THE US AIRWAYS TERMINAL IN MANCHESTER WITH HIS INFECTIOUS IMPISH SMILE."
That impish smile has made its impact – not only on the modeling industry, but on men and women all over the world.
Stultz also has much good karma in the industry; Watson goes on to say that he is a genuine person – one that is easy to be around. He also loves dogs, is a sucker for donuts, and sleeps with the television on all night. He's curious, and asks questions all the time, but is honest, direct, and charming.
Sometime after the Playgirl shoot, Stultz all but retired from modeling, which is a disappointment. Though many models come and go, rarely do you see a model make the impact that Stultz did, in as short of a time as Stultz did. Some are successful quickly, like Ruben Baars, but many lack the chiseled, yet soft, features, impish smile, great body, charm, and goodwill that Stultz had.
That is why he is a guy of my dreams.
Check out Leighton's Model Mayhem profile here.
MORE IMAGES OF LEIGHTON STULTZ: